Income Report August 2018 
Hey, it's a new all-time record!
August was a wild month, I set a new personal best with net income and got to spend most of the month either traveling or hosting friends. That's my kind of month!
I'll be honest, this month I didn't achieve all of the business goals that I set out to accomplish at the end of last month. I'm OK with that because my goals continue to get clearer and more defined as this journey progresses. August was about re-connecting with friends, working on personal and mental health, and doing what I was able to in my business…pushing towards a balanced and fulfilling lifestyle is what it's all about.
Below you'll find my complete August 2018 print on demand income report, as well as some new insights and knowledge that I'm picking up along the way. Let's get into it!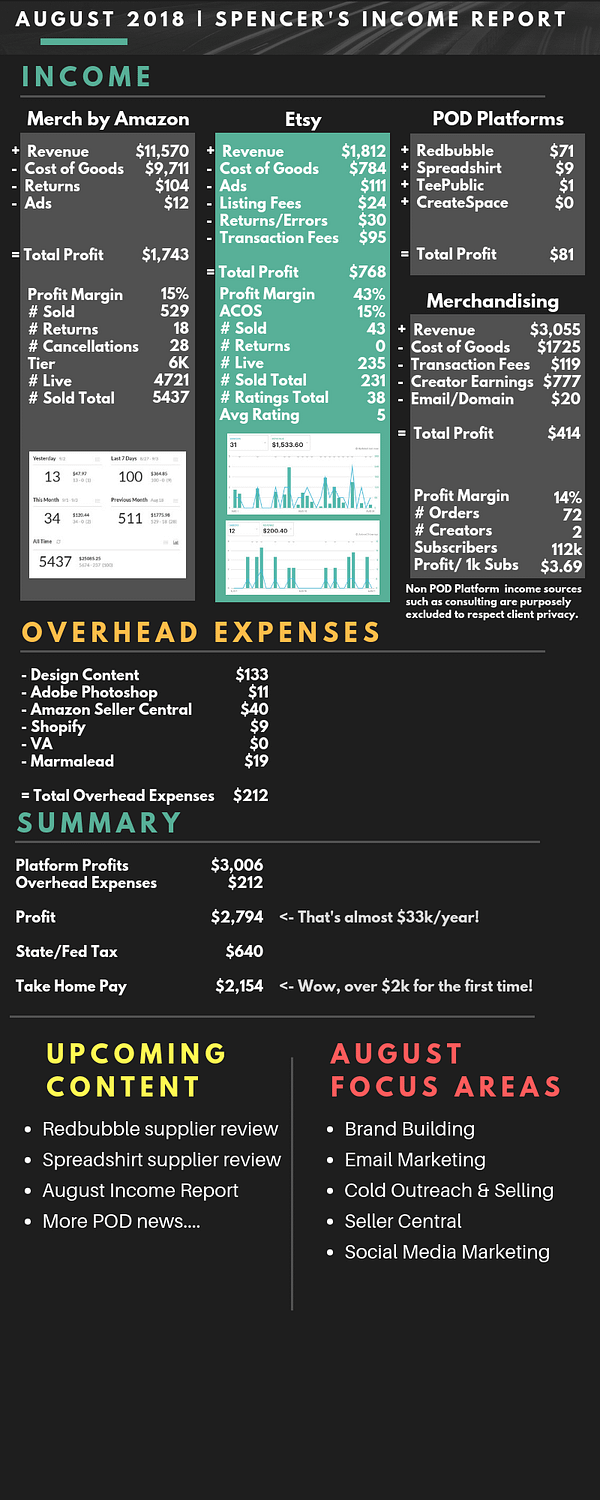 August 2018 Income Report
By Spencer Shewbridge | Merch Lifestyle
Insights
Merchandising Services
This month we're going to pay out over $750 to influencers that they earned from merchandise sales. It feels great to be fulfilling the mission of "helping content creators do more of what they love". In a world where it is disproportionately difficult to monetize quality, creative content, I feel like we're delivering lots of value and getting great feedback from clients.
However, margins for this business aren't where I want them to be. Taking home 15% for all of the services we're providing isn't that attractive, even though the business is relatively hands-free. I would be happier at the 25-30% profit margin level. Here are the changes I'm considering to get there:
Passing through extra size costs (XXL, etc.) that erode my profit margin (I lost $7.50 on this in August, that's $90/yr!)
Bumping up base costs for new creators (and grandfathering in the top clients for now
Increasing shipping costs (a $2 average increase would have been an extra $142 profit) while remaining reasonable
Offering more branding options (sleeve print, custom labels, etc.) with a higher base cost.
Expanding email remarketing via Mailchimp to drive reviews and repeat customers for new product releases.
I did make a few positive changes  this month, including:
Collecting sales tax & VAT from the appropriate customers at checkout.
Testing Meteorik to simplify Woocommerce reporting and analytics. It's incredibly clean and easy to use, I will probably start paying for it monthly ($20/mo for 100 orders)
Launched Mailchimp for allowing customers to opt-in to a GDPR compliant mailing list.
This month I need to
focus on growing the client base with testimonials and referrals
, as well as more cold outreach. I'm excited to grow the platform which should help me move closer towards doing $5k/month in spend with
Printful
, at which point I would get a 5% discount on all items (an easy $250 extra profit in the bank)!
Etsy
Profitability is up for another month in a row on Etsy, I increased profits from ~$500 to about ~$770 while decreasing the amount of listings live. I attribute the growth to a few things in particular:
Starting a branded Instagram account, making a few relevant posts, and promoting a simple 10% off coupon code. This strategy drove 6 sales (20% of one store's orders) and allowed new customers to easily find out about (and share) my brand. I definitely will be taking social media more seriously as part of the brand building strategy.
Removing small revenue items from bundled discounts. Now if customers want the 10% or 20% off bundle discount, they need to order a higher priced item. They'll still be able to get the cheap item, but they'll pay full price for it. I've already seen this strategy pay off in just a week of experimenting.
Using Marmalead to do competitive and keyword research. I like that they provide solid analytics and keyword clouds to help me pinpoint new product niches to get into. Not sure if I will keep it for every month, but for now it's been very helpful and the interface is very nice to work within.
Shutting off Google Shopping Ads and increasing spend on Promoted Listings. I've found that Google Shopping (on Etsy) is a very fast way to burn your money without a return. I don't like that you can't cap your CPC and that budgets get eaten up really quickly. Promoted listings convert much better for me, and are the best ROI I can ask for on any platform I've sold on to date.
Brand Building
 Take a second and think about one of your favorite brands. It can be a car manufacturer, a fashion label, a restaurant, a phone, anything.
Now that you've got it in your mind, ask yourself why you like it. What is it about this brand that resonates with you? Is it the aesthetic? The quality? The customer service?
Why wouldn't you buy a generic version next time and save money instead?
The point is that there are cheaper alternatives for just about everything in this world, and brands help your product stand out. Brands are extremely powerful mediums that can convey a strong message and story that people associate something with. Whether that something is a strong desire to buy it, tell all their friends about, and pay a premium price in order to do so is determined by how the brand is positioned.
By this point, you've probably figured out that I didn't major in Marketing in college, but that's besides the point. The message here is that if you invest in building a strong brand and cultivating a core group of customers around your product and message, you'll be able to grow your business faster while positioning it to have a medium to long-term advantage over your competition.
Here's what I'm doing to build my niche brand:
Launched a custom domain to pull customers off Etsy and into my own store (no listing fees, smaller transaction fees, and more customer data)
Launched an Instagram account and started posting relevant content along with coupon codes for discounts
Actively soliciting reviews and feedback from customers in a non-pushy, helpful way
Including pack-ins into my shipments that provide a discount and encourage people to visit my custom domain instead of Etsy
Establishing customer profiles to see who my target audience is
Building a consistent logo, message, color profile, and voice
I really believe that if I put the time in to build up a brand and take care of my customers, I'll have a highly profitable, defensible business that can insulate my income from the uncertainty of Amazon and Etsy.
I'm actively looking for great brand building resources, so if you know of any, please share the love!