Income Report   December 2018
Welcome back everyone, and happy 2019!
You're in for a treat this time around because I've got a new record profit month to share with you as well as a couple new analytics views to give you better insight. I'm now pulling directly from Etsy analytics and PrettyMerch Pro to show you more insight as to what's working and what isn't.
As always the goal here is to do a few things:
Help you set realistic expectations for your business
Show you how I earn income from POD (so you can do it too)
Honestly share success alongside failure
I plan to keep cracking open the books in 2019 so you guys can keep following along and learning too. With that, let's get into the numbers!
Merch by Amazon – $4,200 Profit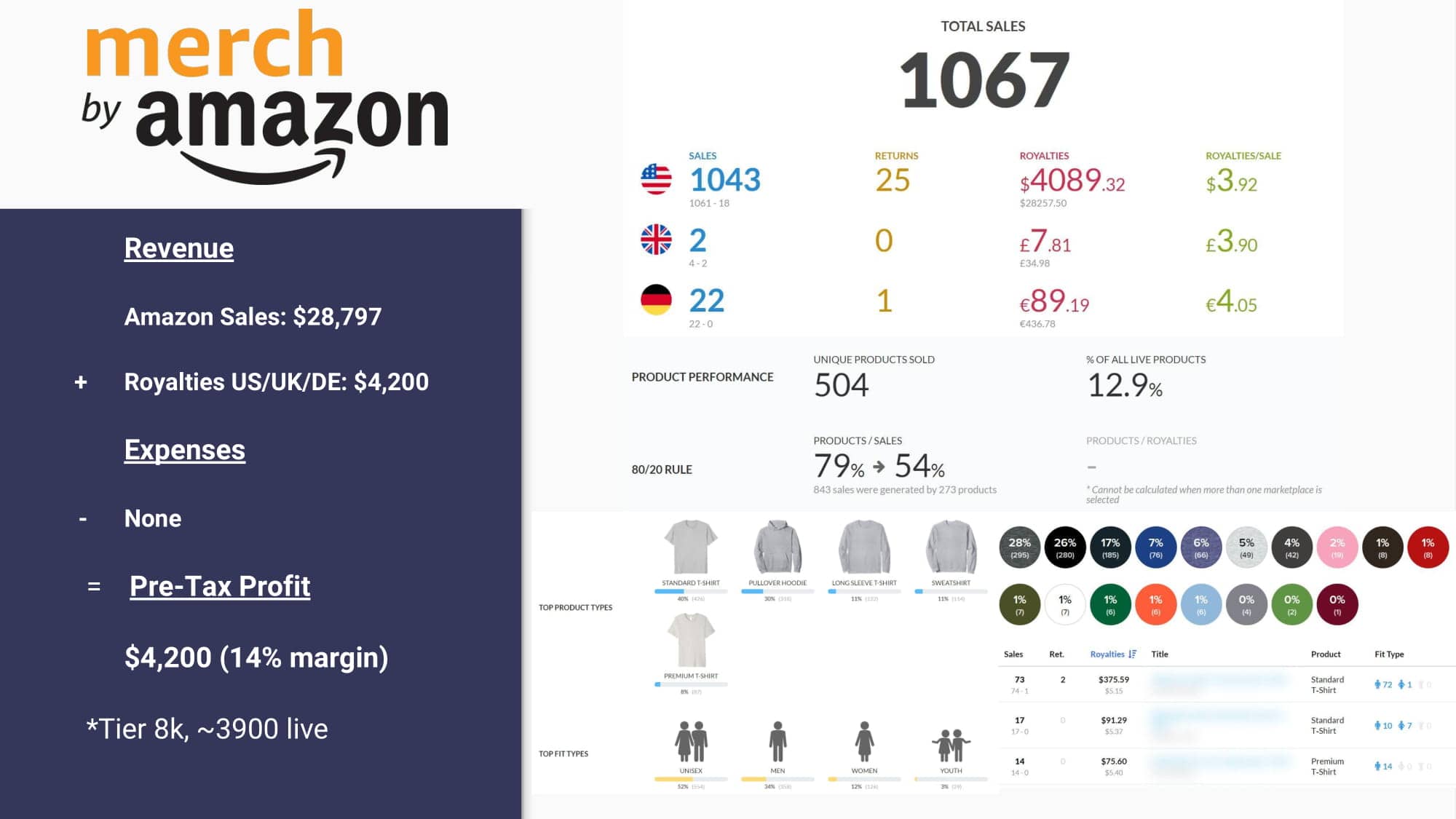 This month has been my best ever on Merch, and it really demonstrated the pure power that Amazon's reach can have for an e-commerce business. The concerns about "building your house on another's land" is still front of mind for me, and diversifying away from Amazon remains a big goal for me in 2019.
On one hand I'm excited about this and it makes me want to invest in the platform for 2019, but on the other hand I'm more motivated to work towards a potential sale…still torn on whether or not that makes sense!
Regardless, the money is there for the taking, here are a few tips based on what worked for me this year:
Scaled designs work, watch my tutorial to show you how to make/automate them in Photoshop
Pricing low to grab a sale, then raising prices has worked well to keep designs on the platform
Profit is mostly determined by the # of products you have live. I scaled well this year by leveraging MerchAlong
Most popular colors in order: Black, Heather Gray, Navy, Heather Blue, Pink
If you have the slots, you should be selling hoodies, longsleeves, and sweatshirts (especially with the new royalty structure)
A final item I'll be delving into on merch is learning AMS and working towards Amazon Advertising accreditation so I can confidently get back into the advertising game (and teach you as well!)
Etsy Store #1 – $762 Profit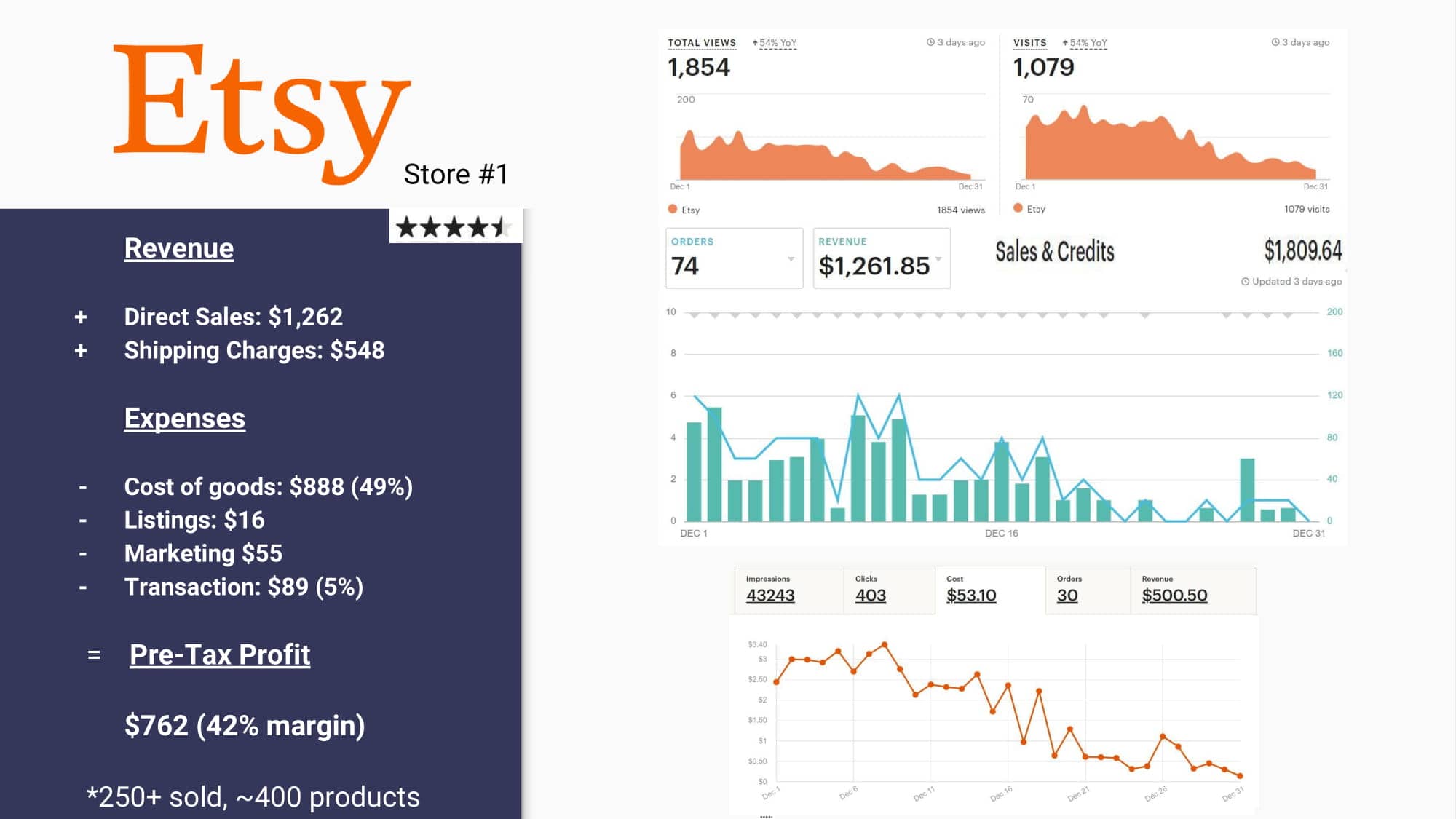 This Etsy store is really interesting in that it isn't at all a cohesive brand and has lots of random niches thrown together. As of right now there's only about 40 products live, so I see this store as a good testing ground for new designs.
Mugs (via teelaunch), tank tops (via Printful/Teelaunch) led the way for this store, and I think I'll use it to test new types of products going forward as well.
If you haven't started an Etsy store, this should be encouraging to you because it shows how much opportunity is out there (for relatively little effort!)
Promoted listings were huge for this store as well, with $50 driving $500 in sales…not bad! If you want to learn how to do promoted listings, check out my tutorial here.
Etsy Store #2 – $1,953 Profit
This Etsy store performed super well this month (selling posters via Printful and digital downloads), and is encouraging as I launch my "premium brand" in 2019.
Although the profit was super strong this month, I will admit that it was a lot more work than I was hoping for. I took on some lucrative custom orders and had to deal with a lot of shipping timing questions for the Christmas holiday. Going forward I am repricing my custom work higher and increasing prices across the board.
Overall it was definitely worth it, and I'll likely be hiring some VA customer service help in 2019 to take care of the crazy seasons. I also want to use team members to do outreach on my behalf to ask for reviews, follow up with customers, etc.
Seeing a 53% margin on a no-inventory model business is really excellent, and I'll definitely be investing in more designs to scale this up beyond 1,000 unique products live in 2019.
Promoted listings were also key here, with $83 spent translating to $1,334 in revenue. That's a 6.2% ACOS on a 53% margin product…I have to scale this up ASAP!
Other Platforms  – $1,953 Profit | Direct Expenses – $124
Redbubble, Spreadshirt, and TeePublic rounded out the month for me with a bit of hands-off income that more than covered the December expenses.
Expenses were predictable and low, with the only real potential to trim them coming from my premium Shopify store that I'm not effectively driving traffic to yet ($29/mo). I'll keep that up as I build my store, it will be an incredible feeling to get that first sale on my own domain!
One thing I'm changing in a big way is how I run my books in 2019. My bookeeping in 2018 was a huge mess, and it's a hassle that I am not going to do again in 2019. I went out and hired a bookkeeping firm called Bench that's going to run my books for about $145/mo. I'm really excited to bring them on because offloading administrative tasks is more necessary than ever for me.
A goal of mine this year is to get a lot smarter about my tax deductions, keeping my expenses in check, and maximizing my profit from all income sources (POD, Merch Lifestyle, career, etc.), so this should lay a strong foundation for the year.
What's coming up in 2019?
On Friday, January 18th I'll be hosting JJ Deakins for an interview at 6:00PM PST. I'm excited to have JJ on because he successfully sold a Merch by Amazon account in 2019 and I'm super curious about his experience.
I'll also be working towards Amazon Advertising accreditation so I can make a tutorial on those to share with you guys in the coming months.
More supplier reviews are coming up, and anything else I figure to get my hands on! My real challenge is finding time to teach and work on my business too (can't forget about that 😉 )
Until next time,
Spencer