It's a sobering experience when you realize that your total monthly profit ($1,344) is less than your total Merch By Amazon income for the month ($1,398)…
That being said, there are some really great insights and strategy shifts that I've pulled from this month's experiences and I'm excited to share with you what I'll be trying differently going forward, and how I am investing in my business now to pay off in the future.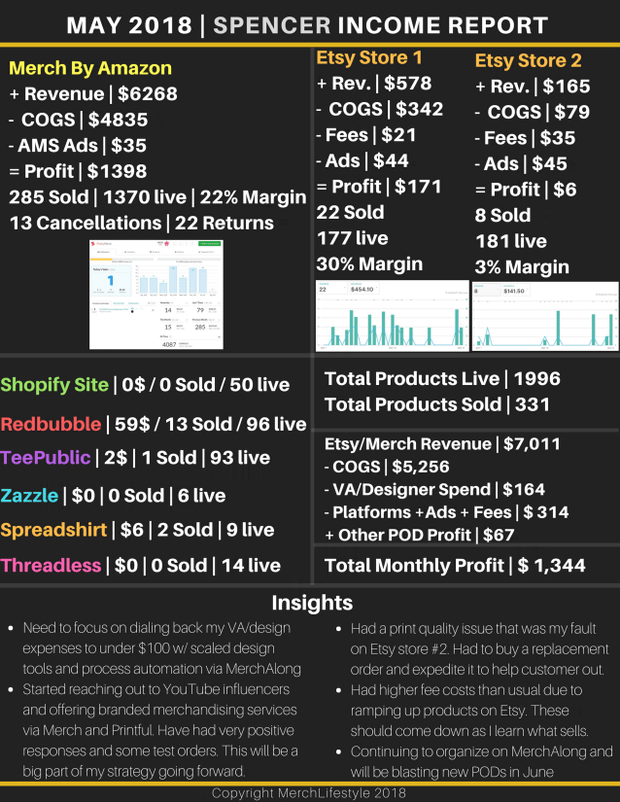 By Spencer Shewbridge | Merch Lifestyle
I try to keep my goal ($5,000/mo profit EOY 2018) in mind so I can focus all of my efforts on reaching that level. It helps me cut out distractions and "shiny objects" in order to double down on what is working. $5K per month lets me continue on this path indefinitely and not have to go "back into industry" to earn an income to support my lifestyle and personal goals. Here are my current sub-goals for getting to $5k/mo:
Merch by Amazon – $3000/mo
Other PODs – $500/mo
Now, let's break each of those down to see why I think that's possible, and what I need to do differently to get there.
Merch by Amazon – $3,000/mo (4K tier, 400/day uploads avail, 4K+ sold)
Right now I have about 1370 designs live on MBA, and I've paid very little attention to it this month. Returns are now part of the game, and yes, they cost me $110 this month but as I've said since the beginning of our show, you can't cry when you're playing in Amazon's sandbox. They will always update rules to favor themselves while putting sellers' interests last. 
I've realized that I need to do things on MBA differently. First of all, I need to re-start the ol' design machine and utilize MerchAlong's auto-upload to get more products up there. It's inexcusable that I haven't even uploaded enough designs to hit tier 6K even though I'm eligible via sales. That will be a big part of my strategy in June/July (along with pricing low to get a sale, then jacking the price up after that).
The biggest strategy shift for me is to see MBA (and what we're learning about POD in general throughout this journey) as an opportunity to offer merchandising services. I believe there are a lot of brands (influencers, musicians, etc) that can earn a good income from offering merchandise, but many are either too focused on creating content or just unaware of the industry specifics to have it set up the right way.
That's why I've been reaching out to YouTube personalities (via cold email) to offer them merchandising services through a website that I set up. Here are the key points of the pitch:
– We take care of manufacturing, shipping, customer service, and returns
– Your product will be discoverable on the world's biggest ecommerce marketplace
– People are more likely to check out on Amazon (familiarity & payment info)
– We can help them set up an "Amazon Influencer Store" to get affiliate income from their gear + other related items
– They'll make more with my service than with Redbubble/Spreadshirt
– As they grow their brand, we can help them get more products (likely fulfilled by Printful) and their own store with higher margins
– We can apply insights gained from 2 places: From our experience selling 4k+ clothing items on amazon AND what we're seeing work for other influencers using our service
So this is my pitch more or less, and my royalty structure is likely going to be $3/item sold flat, with them keeping everything else. I will take a stab at applying amazon affiliate links myself if they aren't interested, but I need to read up on the TOS to make sure that's even allowed. If we're keeping the $3K MBA goal in mind (minus the ~$1500 I make on MBA each month conservatively) then I aim to grow this strategy to sell 500 branded merchandise items per month. I have a few assumptions about what kind of YT subscriber base and view count I would need to get there, but it's all conjecture until we actually get some of these brands' links live and set up.
I do have one YT influencer who placed sample orders, one who verbally agreed to have me make/add gear to his AZ store, and conversations with a few others scheduled as well. Will keep you updated on the journey…
This month was very encouraging on Etsy. I was able to get store #2 (printed products and digital downloads) up to 181 unique products and the poor margin numbers can be explained by a bunch of new listing fees and a self-induced quality issue I had to eat. Without those, we're looking at 31% margin after ad spend, and we're finally at our first 10 sales.
Overall we profited $177 from Etsy this month, which is really great given that one store is a catch-all with random designs and the other just hit 10 sales a few days ago. I think by adding more designs to store #1, raising a few prices, possibly changing suppliers for a few items, tweaking my ad campaigns, and marketing store #2 more effectively, that we can hit $500 in June. We're already off to a great start with $75 (pre-ad spend/fee) profit as of 6/2 so I think with a little luck we can do well this month.
I also found a great way to bulk automate mockup creation in photoshop, so that's been super helpful in scaling at low cost.
A few small changes I implemented this month:
– Stopped paying for Google Shopping as you can't control max CPC and it wasn't worth it for me
– Enabled abandoned cart and recently favorited coupons (jury is out on results here)
– Updated shop policies to say no cancellations or returns (however I did cancel a high margin order due to a buyer that was distressed for personal reasons and didn't need it anymore)
– I follow up with every buyer after their order is delivered to see if they had any issues (so I can correct it) and to solicit a review. I've had some decent success with this, and will continue to do it until my stores get to about 20 reviews and 5-star average ratings.
Other PODs (Currently $67 profit/mo), $500/mo goal
Now that MerchAlong can upload to a few different sites, the barrier that kept me from seriously hitting those sites is lowered significantly. It's actually amazing to me that I am making any sales at all with my number of uploaded designs being so low. I plan on hitting TeePublic, Spreadshirt, and Threadless hard these next few months. Hopefully Shannon adds Redbubble soon so we can take advantage of the great traffic there as well. I think we can grow this to $500/mo by EOY simply by sheer scale and force of will!
I plan to take a big, sharp axe to expenses this month and cut out all non-essentials, including doing design work myself if there's a scaled design series I can automate in photoshop. I want to see my profit over $2500 in June, and I'm tired of adding up my expenses at the end of each month going *sigh*…
Overall, I'm still encouraged that this is the right path forward. I'm learning, experimenting, iterating, and making big changes. Just need to put the pedal down and keep doubling down on what works. I can feel the tipping point coming soon…
Drop me a line and let me know what you think. I'd love to hear about your take and your strategies.
Want new articles before they get published? Subscribe to our Awesome Newsletter.