Income Report   January 2019
Hey there, welcome back!
January is always an interesting month for e-commerce & print on demand. The holiday rush is over, people are spending less, and sales inevitably dip drastically after Q4 ends. It can feel deflating to come off a seasonal high, only to see numbers plummet come the new year.
However, January is a great time to re-frame your priorities for 2019 and to do the hard, foundational work that sets your business up for success in the coming months. You don't get to huge profit in Q4 without doing the work to set yourself up earlier in the year.
Let's take a look at the numbers and see how January shook out for me:
Merch by Amazon – $1,222 Profit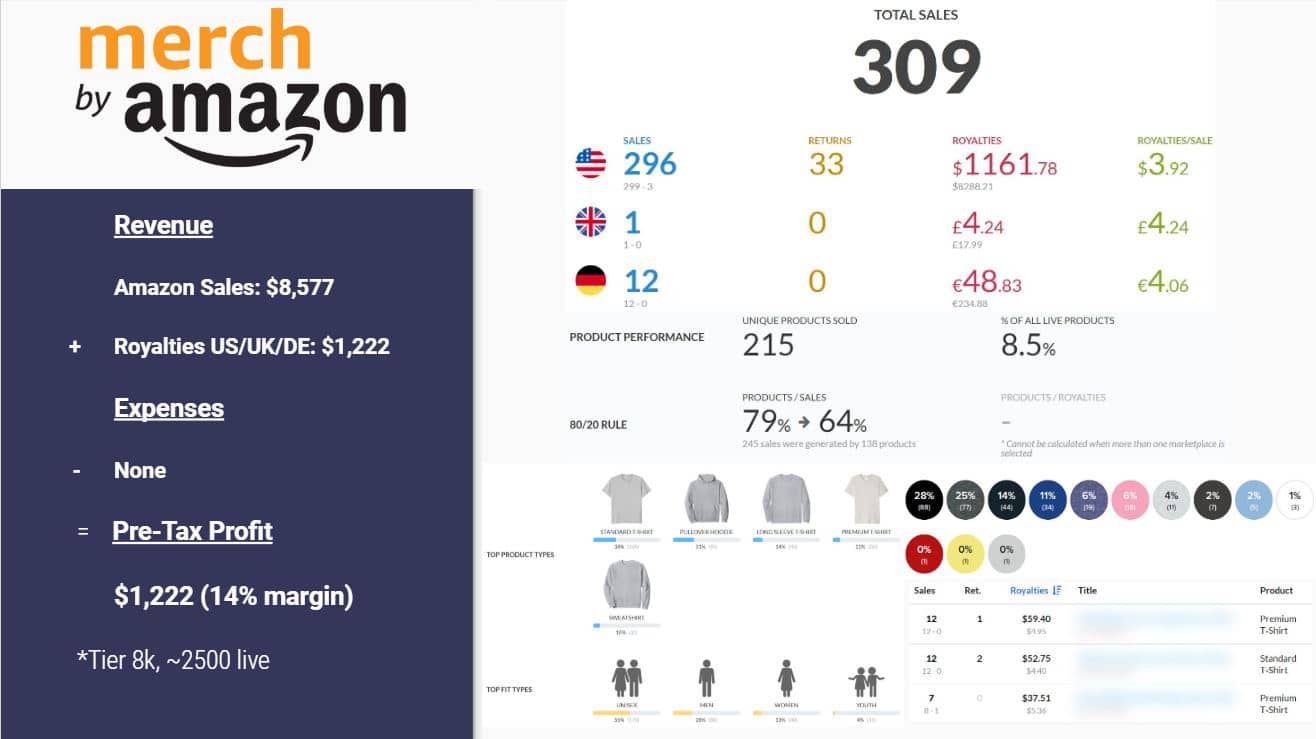 As expected, this month was lower than my typical return on Merch. Instead of making excuses, I'm going to list all of the things that I could be doing to improve these numbers:
– Upload new products.
I haven't uploaded new designs since the fall of 2018. It should be no surprise then that my sales aren't skyrocketing magically after Q4. The number one factor for growing your POD income is consistently getting more quality designs uploaded.
– Run AMS ads.
There's no excuse not to be experimenting with AMS ads. AMS is a quickly growing platform, and those that choose to learn and understand the platform have a huge advantage over those that rely strictly on organic traffic. Amazon recently created a free AMS certification course as well, so your ability to understand the system is limited by your willingness to put in the time!
– Focus more on higher margin products. 
I believe most of the competition on Merch by Amazon is for t-shirts. There's certainly good money to be made in shirts, but when you assess the royalty increases that recently went into effect for long-sleeve products, there are plenty of reasons to diversify what you're offering. I've already seen royalties of $10.77+ per hoodie sold in February, which goes a long way to helping boost the bottom line.
– Research and blast designs into new niches.
New niches are always being created, and by combining the strategies above, you can carve out your own part of those niches. I continue to believe in the power of scaled designs on Merch by Amazon, and if you have the slots, increasing the diversity of product types in that niche will help you grab more of the pie.
These strategies aren't necessarily new to Merch by Amazon, and that's part of the beauty of the platform. If you're willing to learn Amazon's rules and set up processes to scale rapidly, Merch is a great spot to drive additional passive income over the next few years. The Merch platform rewards a very specific kind of business process, which isn't necessarily lined up with a strategy of long-term brand building or customer interaction.
Etsy Store #1 – $139 Profit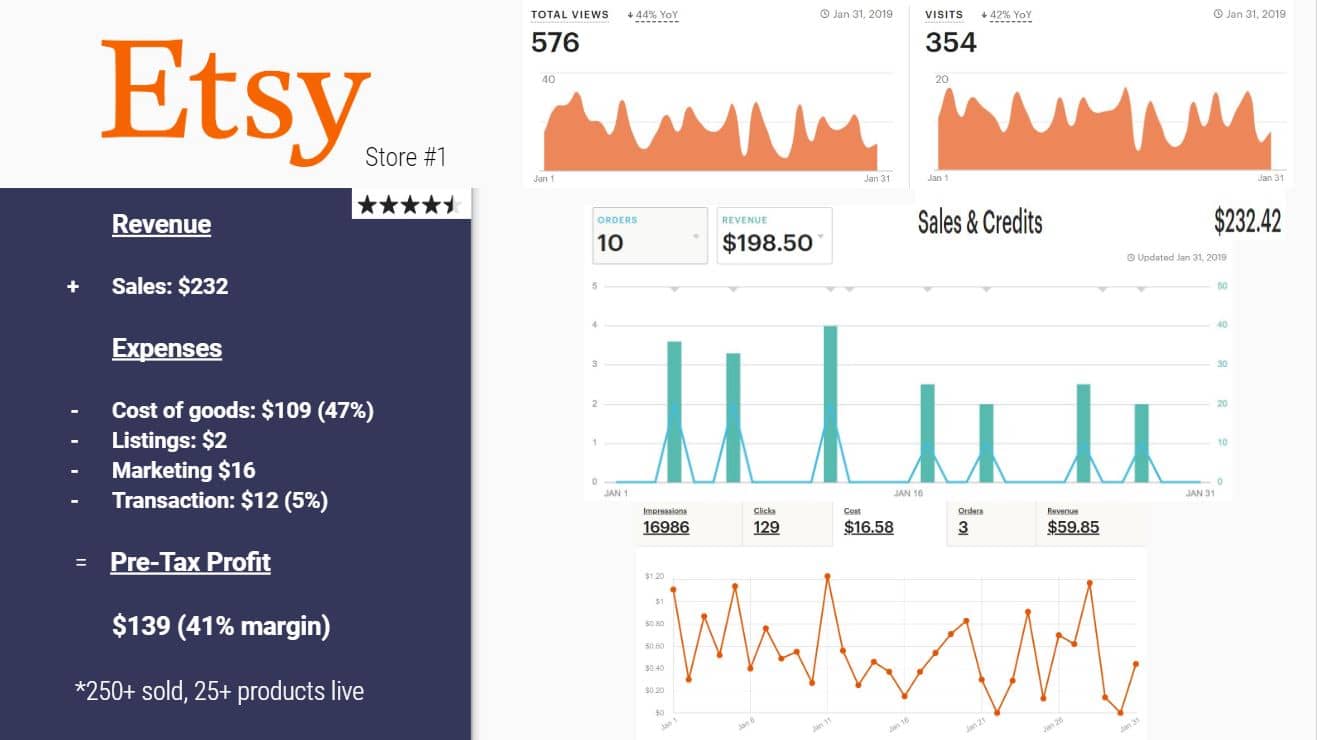 This Etsy store could really use a refresh in 2019.
It continutes to run on autopilot, get mostly good reviews, and is very little work to maintain, however the products are all over the place.
I'm happy that the store has a good base of reviews, but I'll likely look to get a couple hundred products up here in the next couple months to re-test what this store wants to be.
I find on Etsy it's really nice to have a store that is a testing ground for new types of products, alongside any established niches you may have.
I'm also looking forward to the new "Push to Etsy" feature in Teelaunch that will make publishing these products way easier going forward.
Etsy Store #2 – $981 Profit
This store continues to do well, however, I have a few areas I want to expand into/change over the next few months:
 – Custom work is now more expensive for my customers
I realized over the past 2 months that custom work can be really disruptive to my business process and that I needed to raise prices to make it worth my time.
You can't predict what kind of customers you'll get, and over time you'll get customers that are picky, indecisive, slow to respond, etc.
It's best to price any custom work at a high price that makes it more than worth your time and sanity to respond to. In the long term, I should be hiring more help to handle the custom work for me.
– More products & styles are needed to grow the store/brand
In order to grow this business, I need to actively stay on top of new products in the market, and be hiring designers that help get new designs in my store. It's a priority for me to get my designers back in the game, and to have more automation help to scale up designs that I can use for this storefront.
Etsy is full of ideas for you to do competitive research, and the only limitation at this point is my own process to hire more help to grow the product catalog. Expect this to change soon!
– Shopify & direct traffic needs to be a priority for Q1.
One goal I have for 2019 is to have more than 50% of my premium brand revenue come from Shopify instead of Etsy. This is going to require a ton of investment in my brand, direct traffic, promotion, and marketing to get people to move over to my own website.
However, that kind of move will pay off in the long term because I'll be able to grow an email list, market to consumers on other platforms, cut out Etsy fees, and increase margins without worrying about platform rules/changes.
Other Platforms  – $56 Profit | Direct Expenses – $269
Redbubble was reliable as usual, but I'm also packaging that account in with my business sale so I can focus on Etsy/Shopify/content creation.
Expenses grew this month as I brought on bookkeeping firm Bench, however a huge weight is off my shoulders as I no longer have to worry about running my numbers, guessing how much I owe at tax time, or worrying about tax compliance in general.
Overall, my pre-tax profit for January was $2,219, which is pretty good for working on it for less than 5 hours last month 🙂
What's up next?
I hosted RJ Martinez for a great interview (Podcast/YouTube) about his 2019 strategy in January, and I'm lining up more guests to come on the podcast in the coming months.
 Expect more product reviews to come, as I tackle a few poster suppliers, mug suppliers, and a few new POD platforms & software tools. I'll also be updating you on the status of my business sale, as that's a really exciting development this quarter.
Until next time,
Spencer