June was a decent month($2k profit), I'm not where I want to be ($5k profit), but the foundation is rock solid. Here's a short summary of what I think the most important insights are from this month:
Everyone should be on Etsy.
This month I did $557 in profit @ 37% margins with un-optimized ad-spend and 2 stores that are less than 3 months old. That tells me there's a ton of potential as I continue to tweak the following items:
– Ad spend ($.15 cpc on all listings)
– Promotions (setting an end date for sales to drive urgency)
– How to price customization work (hint: I need to raise prices or cut this)
– Product pricing (I probably need to raise prices)
– Social media marketing via Instagram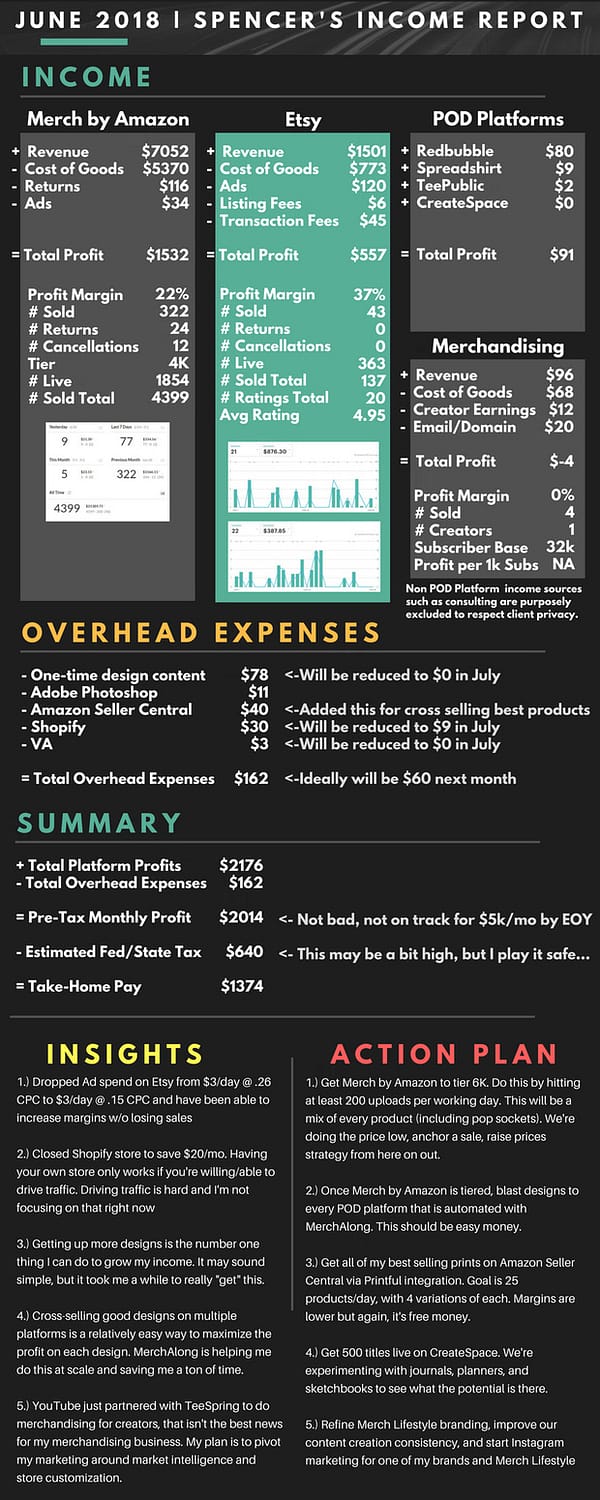 By Spencer Shewbridge | Merch Lifestyle
Merch and POD-specific platforms are a numbers game.
I am seeing Merch, Redbubble, Spreadshirt, etc. as more and more of a numbers game. Once you have a good design style, you know how to do keywords, and you know how to pick niches, it is just a function of how many designs you can get out there. That's why I am blitzing to tier up to 6K on merch this month, because my income is more or less a function of the number of designs live. Once Shannon releases the RedBubble integration for MerchAlong, i'm blasting those as well.
Cross-selling existing designs has a lot of potential.
We don't sell t-shirts, we are designers that have access to and expertise in distribution online. One design can be used across many products, and can be listed on multiple marketplaces. My big push this month is to learn the Printful/Amazon integration and push some of my best Etsy designs on to Seller Central. The short term goal is to simply pay for the Amazon Seller Central monthly fee, but I think that platform has the potential to be a $500-$1000 channel for me by year-end.
In other news, Shannon and I are now offering 1v1 consulting for those with the need for a deep-dive action plan and have our first client! We're also investing in some new content for our YT channel, so stay on the lookout for that.
As always, would love to hear your feedback on my results or your personal journey.
Want new articles before they get published?
Subscribe to our Awesome Newsletter.