Income Report November 2018 
Hey, welcome back! I'm super glad you're here because this month was the most profitable month I have ever had and I can't wait to share with you how it happened.
Before I get into the details, I want to share some big news with you.
Going forward, I will be running Merch Lifestyle independently, with my great friend Shannon deciding to double down on his amazing Merch Along software and growing portfolio of POD businesses. We decided to do this amicably, together, and for a variety of reasons that made a lot of sense for us both. Shannon will be popping in from time to time and help interview, share updates on his POD business and software, so no need to worry!
Now that you're all caught up, let's get into the numbers for November: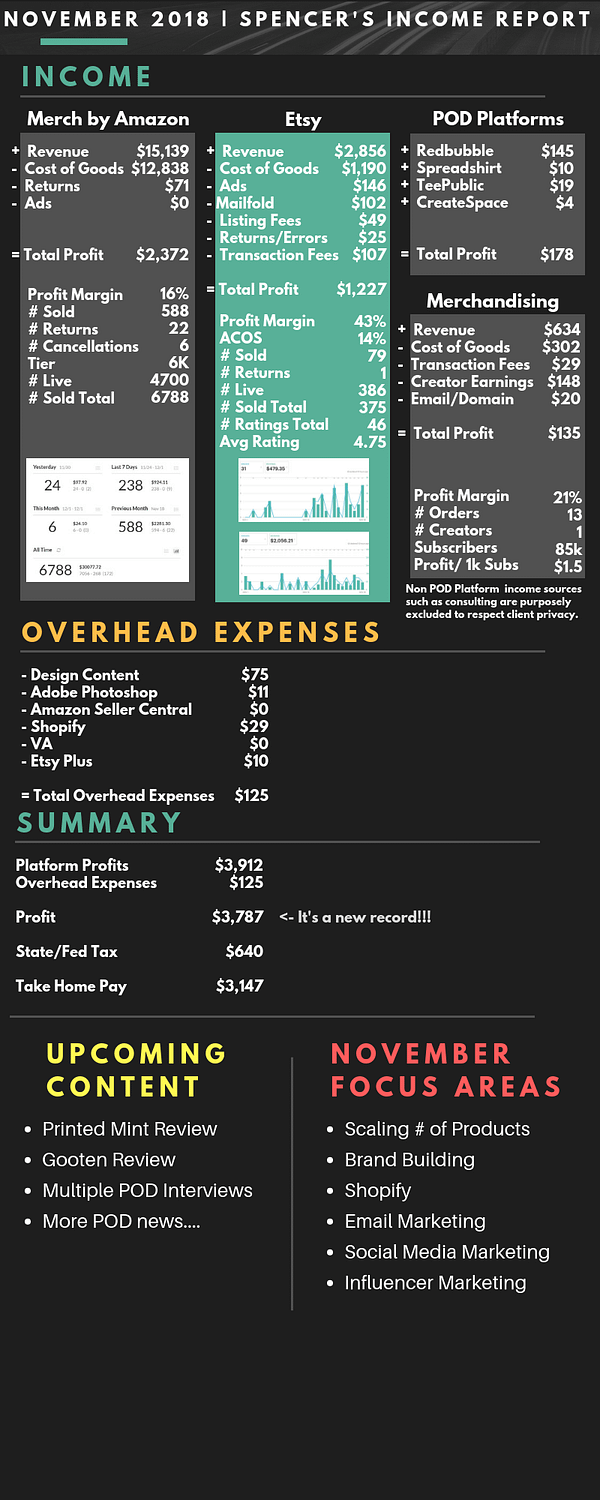 September 2018 Income Report
By Spencer Shewbridge | Merch Lifestyle
Insights
A Brand Is Born? To Etsy and Beyond…
This month I earned $1,277 in profit on Etsy, with a healthy 43% margin. Instead of breaking down each and every part of the platform, let's look at the three key factors that I see enabling my success on the platform:
1.) Run Promoted Listings
Let's start with my ACOS number that you see in the green column above. That stands for Advertising Cost of Sales, which a fancy way to say, "advertising represented x% of my revenue". The important item here is that if your ACOS is less than your total profit margin, your advertising is profitable and you should consider expanding your advertising strategy.
The last time I reasearched this on Etsy's financial statments, I found that only 15% of sellers were taking advantage of promoted listings. There's huge opportunity here for you to test out promoted listings and see if they work for you…here's my easy strategy:
– Set your max CPC at something reasonable for your niche (mine works out to about .18-.20/click
– Set your budget to $5/day
– Make sure your 13 tags are filled out with relevant keywords
– Let it run for a month and review the results
Not only are you likely to drive sales, but you will get valuable information about what tags are driving traffic and how to refine your listings in the future.
2.) Sell Something Different
Think beyond selling t-shirts on the internet.
More and more products become candidates for print on demand every year…when you just box yourself in to apparel, you lose out on an opportunity to differentiate your brand and increase your margins.
I fulfill most products on Etsy via Printful (wall art) and/or Teelaunch (mugs/tanks), and I didn't sell a single t-shirt this month. T-shirts are a crowded space and there's a ton of opportunity in other products…look at what is selling on Etsy and test for yourself!
3.) The long tail works
This month I had put up many more products that were "niched down" into very specific audiences and did very well. Products that I thought would never sell due to having a small audience actually outperformed the more popular and competitive products.
Etsy is extremely powerful for using long-tail keywords in your tags to find buyers who are looking for that perfect gift. Again, more products live = more profit opportunity.
Next Steps in Brand Building
Once I have all of my long-tail products live on Etsy (and that will be done before year-end), then I'll be able to do a few key tasks:
 Revamp all of my pricing (it's going up!)
 Work on my branding (logo, aesthetic, customer profile)
 Hire a social media manager
 Fully configure my Shopify store
 Re-hire designers for new products
I really think I have something special here but it needs love and attention to grow…I'll definitely be hiring help to give it the boost it needs.
Marketing Strategy Update
My influencer product hasn't been delivered yet (thanks Canada Post), and Mailfold drove exactly zero sales.
…Yeah. Not a huge update for you this week on how "alternative marketing" is going, but I hope to have more substantial numbers next week. 
For now, I need to learn to master platform advertising (think Etsy promoted listings & Amazon AMS) because they seem to give the best "bang for the buck" at the moment.
Where does Merch Lifestyle go from here?
There's so much opportunity that it's hard to explain!
My vision for Merch Lifestyle is evolving, but there are a few key goals that I have in mind:
1.) Increase the frequency, quality, and depth of content
More interviews, especially with guests with new backrounds and experiences
More POD reviews & tutorials (although my videos need to be a bit shorter…)
More consistency on blog/podcast/email/social presence
2.) Help my audience learn, experiment, and earn real money
Provide real, transparent insight into my POD business
Give actionable, tailored advice
Set reasonable expectations and encourage action
I hope you're encouraged to stick around and see the transformation that Merch Lifestyle is growing into. I promise it will be a fun ride 🙂
Until next time,
Spencer